Huff Insurance & Financial Services was founded in 1989 with the goal of assisting clients with their financial planning and insurance needs. We strive to create financial stability and secure financial independence for our clients. As an independent agency, we offer a wide variety of products from several highly-rated companies. By providing excellent service, we strive to build strong business relationships with them. Approximately 85% of our new business comes from client referrals.
If you are looking for a firm to help with all your personal and business insurance and investments needs, Huff Insurance & Financial Services is here to help with products from life insurance to 401k's and everything in-between. As a trusted business in the Evergreen area, we look forward to serving you!
Here are some of the ways that Huff Insurance & Financial Services can help you!
Cash Flow
Cash flow is the foundation of your financial plan. Knowing exactly where you stand in terms of inflows and outflows is the first step in pursuing your goals. Understanding your monthly cash flow will help ensure that your savings and spending decisions are aligned with your goals.
Estate Planning
We work with estate planning attorneys to ensure that every family has a basic estate plan including wills and power of attorneys. For clients with significant net worth, certain types of trusts can be valuable. We can help you understand and fund an irrevocable life insurance trust or charitable remainder trust.
LPL Financial Representatives offer access to Trust Services through The Private Trust Company N.A., an affiliate of LPL Financial.
Goals
Determining and setting your goals is the most important part of a financial plan. Everyone has different needs; therefore, everyone's financial plan will be different. A plan ensures that we understand your goals and values, and that your savings and investment decisions are aligned with your short and long-term goals.
Insurance
Huff Insurance & Financial Services is here to ensure you're getting the right amount of life insurance,
disability insurance, and long-term care coverage. We work with the a wide range of insurance carriers to get you appropriate products at a competitive price.
Investing
We tailor an investment strategy to align with your needs—whether you are investing with a 30-year time horizon or to secure income in retirement. Huff Insurance & Financial Services has the experience to manage risk and strive to generate returns in your portfolio.
Retirement
Retirement planning has two stages: accumulation and distribution. We make sure our clients are investing wisely in the accumulation phase by tailoring an investment strategy to address their needs. In the distribution phase, we seek to help ensure that our clients maintain financial independence throughout retirement.
Short-Term Goals
Whether saving for a college education, a new car, or a vacation, we will not overlook the short-term goals that are important to you.
Call today to schedule a complimentary consultation with Kent!
303-674-5144
Proud Member of the Evergreen Area Chamber of Commerce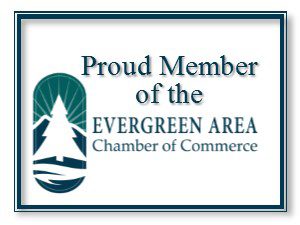 Proud Nominee for Business of the Year by the Evergreen Area Chamber of Commerce in 2016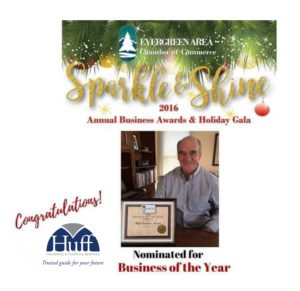 Check the background of investment professionals associated with this site on FINRA's BrokerCheck.
Securities and advisory services offered through LPL Financial, a Registered Investment Advisor, Member FINRA/SIPC The LPL Financial Registered Representatives associated with this site may only discuss and/or transact securities business with residents of the following states: Colorado, Utah, New Mexico.